Jabatan Kejuruteraan Mekanikal diketuai oleh Encik Nadzri bin Che Kamis selaku Ketua Jabatan dan dibantu oleh Ketua Program iaitu Encik Ahmad Zawawi bin Zulkifli dengan kekuatan 29 orang pensyarah dan 2 orang kakitangan sokongan. Program yang ditawarkan oleh Jabatan Kejuruteraan Mekanikal adalah Diploma Kejuruteraan Mekanikal sepenuh masa selama 6 semeter dan satu semester bagi Latihan Industri.
CARTA ORGANISASI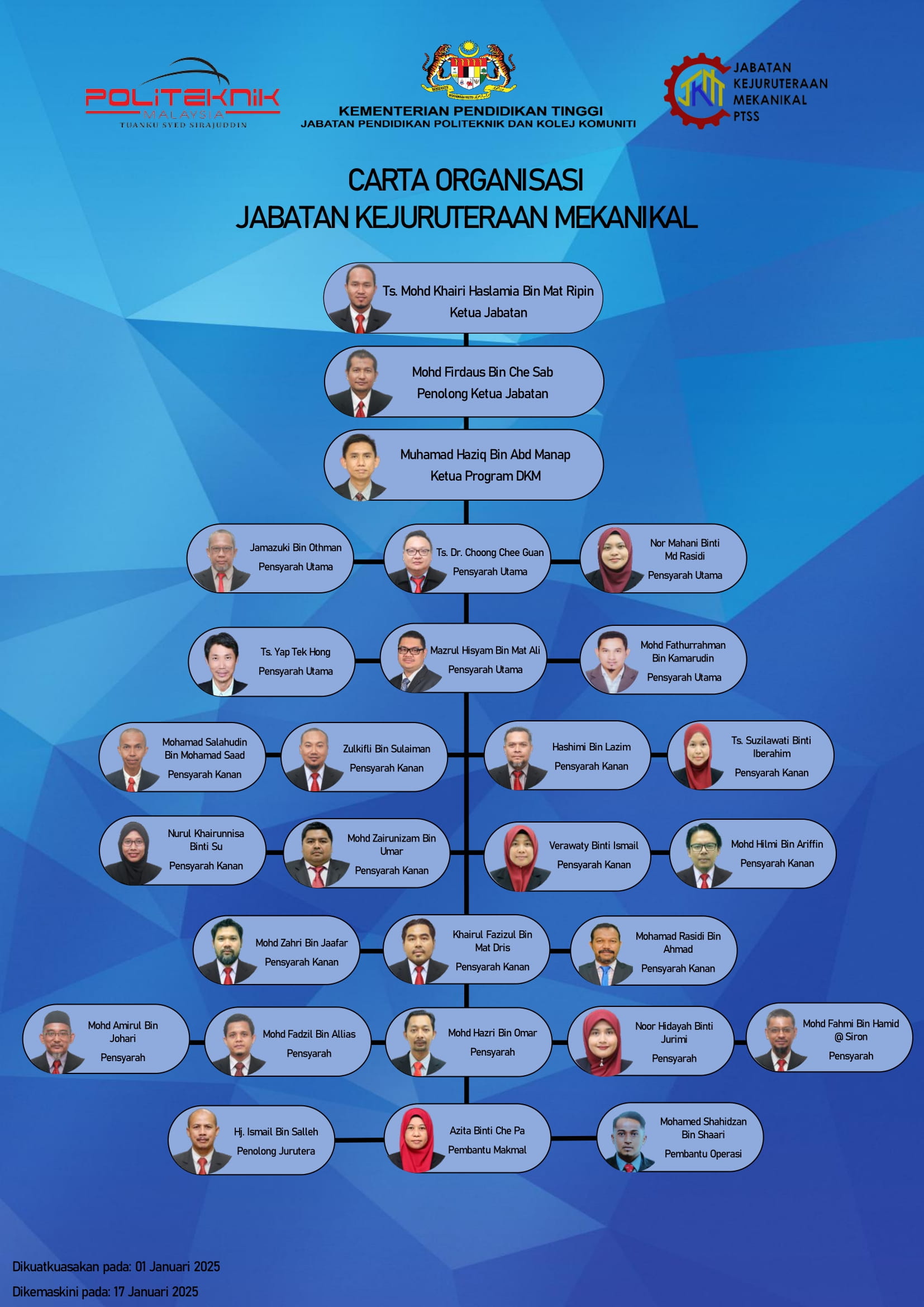 MAKLUMAT KAKITANGAN
Bil.
Nama
Jawatan
Samb. No. Telefon
(04 988 6200)
E-mel
1
Nadzri bin Che Kamis
Ketua Jabatan
6288

This email address is being protected from spambots. You need JavaScript enabled to view it.

2
Ahmad Zawawi bin Zulkifli
Ketua Program
6289

This email address is being protected from spambots. You need JavaScript enabled to view it.

3
Abdul Mutalib bin Abdul Majid
Pensyarah Utama
6284

This email address is being protected from spambots. You need JavaScript enabled to view it.

4
Dr. Choong Chee Guan
Pensyarah
6284

This email address is being protected from spambots. You need JavaScript enabled to view it.

5
Suhairi bin Ahmad
Pensyarah
6284

This email address is being protected from spambots. You need JavaScript enabled to view it.

6
Mohd Hanafiah bin Mat Jamlus
Pensyarah
6284

This email address is being protected from spambots. You need JavaScript enabled to view it.

7
Muhammad Nazri bin Rejab
Pensyarah
1904

This email address is being protected from spambots. You need JavaScript enabled to view it.

8
Mohd Firdaus bin Che Sab
Pensyarah
 6284

This email address is being protected from spambots. You need JavaScript enabled to view it.

9
Syed Azmir bin Syed Ahmad
Pensyarah
  1111 

This email address is being protected from spambots. You need JavaScript enabled to view it.

10
Nur Ismalina binti Haris
Pensyarah
1891

This email address is being protected from spambots. You need JavaScript enabled to view it.

11
Mohd Zubir bin Yahaya
Pensyarah
6285

This email address is being protected from spambots. You need JavaScript enabled to view it.

12
Hashimi bin Lazim
Pensyarah
1111

This email address is being protected from spambots. You need JavaScript enabled to view it.

13
Zulkifli bin Sulaiman
Pensyarah
6287

This email address is being protected from spambots. You need JavaScript enabled to view it.

14
Mohamad Salahudin bin Mohamad Saad
Pensyarah
6284

This email address is being protected from spambots. You need JavaScript enabled to view it.

15
Mohd Amirul bin Johari
Pensyarah
1111

This email address is being protected from spambots. You need JavaScript enabled to view it.

16
Nazera binti Dan
Pensyarah
6287

This email address is being protected from spambots. You need JavaScript enabled to view it.

17
Suzilawati binti Iberahim
Pensyarah
6287

This email address is being protected from spambots. You need JavaScript enabled to view it.

18
Mohd Fadhli bin Ahmad
Pensyarah
6285

This email address is being protected from spambots. You need JavaScript enabled to view it.

19
Mohd Fadzil bin Allias
Pensyarah
6285

This email address is being protected from spambots. You need JavaScript enabled to view it.

20
Masniza binti Yusof
Pensyarah
6287

This email address is being protected from spambots. You need JavaScript enabled to view it.

21
Mohd Zahri bin Jaafar
Pensyarah
6284

This email address is being protected from spambots. You need JavaScript enabled to view it.

22
Nurul Khairunnisa binti Su
Pensyarah
6287

This email address is being protected from spambots. You need JavaScript enabled to view it.

23
Mohd Zairunizam bin Umar
Pensyarah
6284

This email address is being protected from spambots. You need JavaScript enabled to view it.

24
Mohd Khairi Haslamia bin Mat Ripin
Pensyarah
6284

This email address is being protected from spambots. You need JavaScript enabled to view it.

25
Mohd Zulfabli bin Hasan
Pensyarah
6285

This email address is being protected from spambots. You need JavaScript enabled to view it.

26
Khairul Fazizul bin Mat Dris
Pensyarah
6284

This email address is being protected from spambots. You need JavaScript enabled to view it.

27
Nik Noor Zilawati binti Nik Ab Rahman
Pensyarah
1892

This email address is being protected from spambots. You need JavaScript enabled to view it.

28
Nurisah binti Wahab @ Abd Wahab
Pensyarah
6285

This email address is being protected from spambots. You need JavaScript enabled to view it.

29
Azyan binti Md Zahri
Pensyarah
6285

This email address is being protected from spambots. You need JavaScript enabled to view it.

30
Sahrijan bin Ahmad
Pensyarah
6284

This email address is being protected from spambots. You need JavaScript enabled to view it.

31
Mohammad Najib bin Ramli
Pensyarah
6285

This email address is being protected from spambots. You need JavaScript enabled to view it.

32
Mohd Fahmi bin Hamid @ Siron
Pensyarah
1906

This email address is being protected from spambots. You need JavaScript enabled to view it.

33
Ismail bin Salleh
Penolong Jurutera
1111

This email address is being protected from spambots. You need JavaScript enabled to view it.

34
Nur Faradiana binti Rusli
Pembantu Makmal
1891

This email address is being protected from spambots. You need JavaScript enabled to view it.
DIPLOMA IN MECHANICAL ENGINEERING
PROGRAMME OVERVIEW
SYNOPSIS
Diploma in Mechanical Engineering at Polytechnic's Ministry of Education Malaysia designed to cover the current wide discipline of mechanical engineering with added specialization subjects in the field of mechanical engineering. Core courses offered include Engineering Mechanics, Electrical Technology, Engineering Drawing, Mechanical Workshop Practice, Workshop Technology, Computer Aided Design, Thermodynamics, Fluid Mechanics, Strength Of Materials, Pneumatic & Hydraulics, Project, Maintenance Engineering & Management, Material Science, Mechanic Of Machines, Engineering Design and Mechanical Components & Maintenance. The elective courses are Computer Aided Design 2, Control System, Instrumentation & Control, Engineering Plant Technology, Quality Control, C programming, Programmable Logic Control, Industrial Management, Diagnose & Troubleshooting for Mechanical Component, Tamadun Islam, Integrasi Malaysia and Computer Application. Common core courses included in the programme are Engineering Mathematics, Engineering Science, and Occupational Safety & Health and Entrepreneurship. Compulsory courses offered include Communicative English, Pengajian Malaysia, Komunikasi dan Penyiaran Islam, Nilai Masyarakat Malaysia, Sains Teknologi Dan Kejuruteraan Dalam Islam and Ko-Kurikulum would provide students with interpersonal ability, attitude and professionalism towards their career.
JOB PROSPECT
This programme provides the knowledge and skills in mechanical engineering field that can be applied to a broad range of careers in mechanical engineering. The knowledge and skills that the students acquire from the programme will enable them to participate in the job market as:
Technical Assistant
Assistant Service Manager
Service Advisor
Supervisor
Assistant Engineer
Junior Engineer
Technical Instructor or Lecturer
Technical Sales Executive
PROGRAMME AIMS
The Diploma in Mechanical Engineering graduates in Polytechnics, Ministry of Education Malaysia will have the knowledge, technical skills, softskills and attitude to adapt themselves with new technological advancement and challenges in the mechanical engineering field.
PROGRAMME LEARNING OUTCOMES
Upon completion of the programme, graduates should be able to:
Apply knowledge of mathematics, science, engineering fundamentals and social sciences to well-defined mechanical engineering procedures and practices.
Analyse well-defined mechanical engineering problems with respect to operation and maintenance, including troubleshooting.
Conduct investigations and assist in the design of solutions for mechanical engineering systems.
Apply appropriate techniques, resources, and engineering tools to well-defined mechanical engineering activities, with an awareness of the limitations.
Demonstrate an awareness and consideration for societal, health, safety, legal and cultural issues and their consequent responsibilities.
Communicate effectively with the engineering community and society at large.
Function effectively as an individual and as a member in diverse technical teams.
Demonstrate an understanding of professional ethics, responsibilities and norms of engineering practices.
Demonstrate an awareness of management, business practices and entrepreneurship.
Demonstrate an understanding of the impact of engineering practices, taking into account the needs for sustainable development.
Recognise the needs for professional development and to engage in independent and lifelong learning.
PROGRAMME EDUCATIONAL OBJECTIVES (PEO)